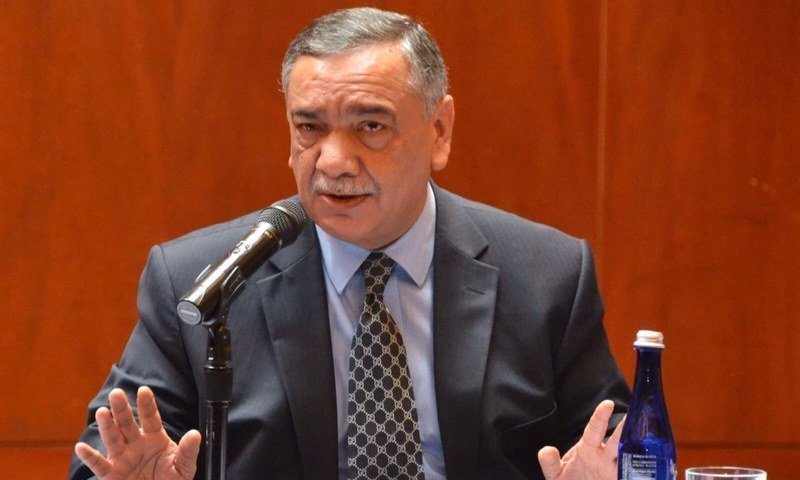 ---
ISLAMABAD: Justice Asif Saeed Khosa took oath as the 26th chief jusitce of Pakistan on Friday.

He succeeded Justice Mian Saqib Nisar.

Born in Dera Ghazi Khan on December 21, 1954, Justice Khosa obtained his law degree from the United Kingdom in 1976. Son-in-law of former chief justice Nasim Hassan Shah, Justice Khosa is one of the top jurists on criminal law.

In his career spanning over 19 years, he has decided about 55,000 cases. The feat is acknowledged as his biggest contribution to the judiciary. Khosa fervently urges clearing backlog of pending cases. He has decided over 10,000 criminal cases since 2014. At present, a few hundred criminal appeals are being heard.

CJP-designate Khosa to sparingly use suo motu powers

In Justice Khosa's courtroom, there is no concept of adjournment. After hearing arguments, he dictates and announces orders without reserving verdicts. His brand of speedy justice had allowed dozens to be acquitted and released after decades-long imprisonment.
The chief justice has also initiated steps for speedy trials in murder cases in some districts of Punjab.

Justice Khosa was among the Lahore High Court (LHC) judges who refused to take oath under the November 3, 2007 Provisional Constitution Order (PCO). He was elevated to the top court on February 18, 2010.

He has been part of benches deciding high-profile cases and has authored many landmark judgments. Justice Khosa, known for his literary prowess, was also part of the larger bench that disqualified former premier Yousuf Raza Gillani in the National Reconciliation Order (NRO) case. In the additional note of the verdict, the justice had quoted Khalil Gibran.

Justice Khosa also authored the famous ruling banning the second FIR in criminal cases.

Most recently, Justice Khosa was part of the larger bench that disqualified Nawaz Sharif under Article 62(1) (f) of the Constitution in the Panamagate case.

He also heard and authored the verdict in the contempt case against PML-N senator Nehal Hashmi and against police officials for manhandling of former chief justice Iftikhar Muhammad Chaudhry. Justice Khosa, however, deposed contempt cases against two media personalities in 2018.

Justice Khosa has issued verdicts against high court judges; he authored the opinion about the removal of Islamabad High Court judge Shaukat Aziz Siddiqui.

Foreign dignitaries to attend CJP-designate Asif Saeed Khosa's oath-taking

He reversed the special court's verdict to implead former chief justice Abdul Hameed Dogar, former prime minister Shaukat Aziz, then law minister Zahid Hamid in a treason case lodged by the federal government against former military ruler Pervez Musharraf. The judge had asked the special court to conclude the treason case expeditiously.

Justice Khosa gave the historic ruling in the Salman Taseer murder case wherein he restored terrorism charges against Mumtaz Qadri and upheld the death sentence. He also highlighted discrepancies in the blasphemy case against Aasia Bibi – the points that enforced acquittal.

Currently, the top judge is heading a committee formed to suggest recommendations on police reforms and has also proposed appropriate amendments to the National Accountability Bureau (NAB) laws.

First speech at full court reference

In his address at the full court reference held in the honour of former chief justice Mian Saqib Nisar on January 17 and the Supreme Court in Islamabad, Justice Khosa said he will sparingly use suo motu powers.

The top judge spoke on delivering speedy justice to adopting modern technology, missing persons and enforced disappearances to institutions encroaching upon other departments' jurisdiction.

Read the full text of Justice Khosa' speech here.