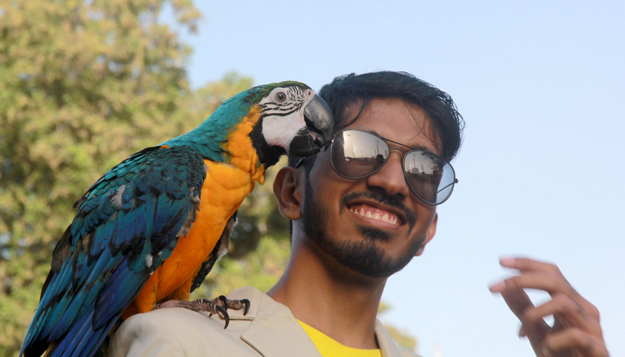 ---
KARACHI: Park Towers was the place to be Sunday evening as hundreds of people came to attend a pet show organised by Rude Planet Kennel (RPK) Critter Care and Services, a 24/7 pet hospital located on Khayaban-e-Nishat in Defence Housing Authority.

RPK partners Shan and Alishba, talking to The Express Tribune, said they are the first and only round-the-clock dog breeding kennel in Karachi. "We have been organising pet shows for the last five years in partnership with Park Towers."

While the premises was filled with animals ranging from cats and dogs to parrots and turtles, the one that stood out, and was a definite winner, was a beautiful white Shetland pony that could have easily been mistaken for a large stuffed animal.

Surprisingly fleet-footed giant tortoise escapes Japan zoo... again

Another exotic creature present at the show was a breathtaking Spanish eagle owned by a longtime animal enthusiast Saad Siddiqui, who has organised pet shows himself before. "I've been importing birds and animals for 15 years and have a pet store of my own called Animal Planet," he said.




A rare sighting of a couple of huskies was made at the pet show. Two-and-a-half-year-old Whiskas took it upon himself to enter a stare-off with other dogs. Iman, his 19-year-old owner, however, was not worried. Examining the competition, he said, "Huskies are rather expensive and they don't really fare well in the heat so people don't keep them."

First-time participants were also found walking gorgeous dogs, a labrador and a rottweiler, named Kiara and Dertu respectively. "We never really got the time to take part in such an event before but we made sure we took out time for this," the dog-owners said.

Mimicking parrot uses voice-controlled gadget Alexa to order Amazon gift boxes

A royal German-shepherd, named after Hector of Troy, was in attendance as well. Ishaq, his owner, said that Hector has won many a competition throughout his 19-month life. "I was waiting for the right dog, one that would miss me when I left and get excited when I returned. Hector really is my best friend," he said.

A helpless father with his two kids was coerced into adopting two adorable white stray kittens, immediately named Igloo and Casper. "Sundays are purely family days and we chanced upon the pet show as we had come to shop at Park Towers," the father mentioned.

The adoption stand was run by the Karachi Animal Welfare Society (Kaws) and featured vaccinated stray cats and dogs. "This is a corporate social responsibility project in collaboration with RPK and we also take care of donkeys and eagles" said Kaws Operations Manager Mustafa Ahmed.




"A welfare society is the need of the hour. Protests against dog culling are great, but we need to take practical steps to address the situation," Ahmed said, adding that they've organised a lot of awareness campaigns in different universities and have a lot of young volunteers working with them.

"There are two main competitions, best breed and best category, and the winners of these will compete against each other," said Shan. The winning animals received special awards such as packets of animal food courtesy of Mera Dog and Mera Cat. Their owners, on the other hand, received food coupons for human food courtesy of Park Towers.

Commenting on the wonderful response from the people, Shan said, "We were planning to bring trained lions and ostriches too, but there's barely any space left to walk around."