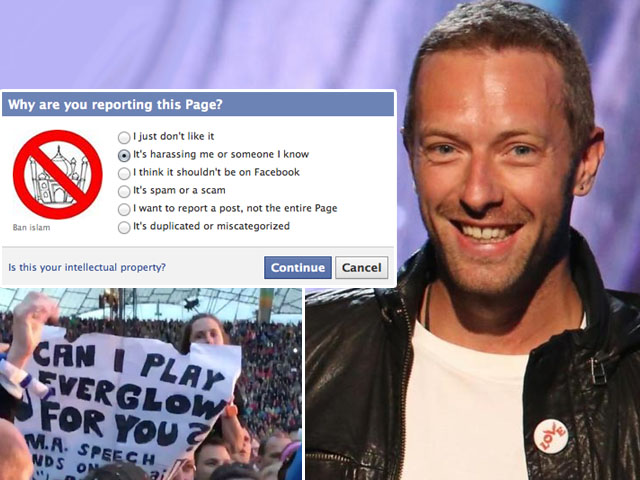 ---
My crime, you ask? Being a fan girl and expressing my love for Chris Martin
He completely changed the intent of my simple and innocent fan letter to make it sound sexually explicit.
---
This is a message for all those people out there who have been frowned upon for having a difference of opinion; for the people who raised their voices and were brave enough to take a stand against a social evil, but were shunned by the benighted individuals of society. Here's an honest piece of advice – fight for your cause and do not back down.

Most of you must have read the article about me being harassed by a man for expressing my love for my favourite band, Coldplay. My crime, you ask? Being a fan girl and expressing my love and affection for Chris Martin.




My fan letter went viral on social media platforms and I was ambushed by a random man who had the audacity to send me a series of nasty and unrepeatable messages. But at the same time, he didn't have enough guts to swallow my responses, since he blocked me. He completely changed the intent of my simple and innocent fan letter to make it sound sexually explicit. Like any other person, I took to social media to post my rant and expose the dirty minded person behind the incident.




It started when I posted about the incident on a closed Facebook group, where girls and women from all over the world share their issues and activities. A few girls from the group reached out to me and asked me to get this posted as a blog so that I could appeal to a wider reading audience. With the help of a friend, I got it posted and within a few hours, it went viral.

I received numerous appreciation messages from across the globe. People of authority reached out to me and wanted to help me get my message across. Naturally, the next step was to report it to the concerned authorities, but I had no clue how to go about the process.

An individual (who I believe is my guardian angel) reached out to me and helped me get in touch with the Deputy Director of FIA Cyber Crimes. I filed my case and it is being worked on currently. There were a few people on the Facebook group I mentioned earlier, who told me that they knew mutual friends/cousins of the man who harassed me and could get in touch with him to understand why he acted the way he did.

I asked them to go ahead and two hours later, the harasser unblocked me and had the nerve to send me some more nasty messages, telling me that no matter what I do, I can't do anything about him abusing me and nothing will affect him. That is when I blocked him, but only after I sent the following message,

"I have reported your sorry and confused a** to Cyber Crimes. Have fun."


Once the post went viral, and the account from which I was abused had been blocked, the harasser panicked. He created a new account under his name, declared his previous account was "hacked," suggesting it wasn't him who was behind the entire incident.

That is when I decided to give him the benefit of the doubt and got in touch with his friends and family who wanted to settle this matter peacefully. But they had no solid explanation for his account being hacked, and even though I persistently requested that they send me some sort of proof or apology, they ignored me.

I even extended my assistance and asked them to file a complaint against the person who had apparently hacked his account, but again, I was ignored. I then insisted that they provide me with a screenshot of the notification which every Facebook user receives once their account is accessed by an unknown device. They told me that the email address under which the account was registered was extremely old and they had forgotten the password, therefore the messages could not be recovered.

After hearing their repeated excuses, I had had enough. At first, I was sure the story was fabricated, but after hearing their last excuse, I was convinced that he was the real culprit. Even though most of my questions still remain unanswered, I'm waiting for a response or some kind of reasoning, in the least.

The following is my comment on his post, in which he is declaring his innocence. This was ignored as well.

"Hi, hope it's really you this time. Let me give you the benefit of doubt and let's hypothetically say your ID was hacked, are you up in finding out who did this? I can amend my complaint to FIA and instead of fighting against you, I'll fight with you. We can easily get the IP addresses traced. Please let me know if you're in on it. Thanks."

Out of the numerous positive responses to this message, there were some negative ones as well. People were abusing me yet again, sending me messages in my inbox and calling me names. They even shared my picture and spewed more vitriol (I have reported that too). Some people even claimed that I should have taken the harasser and his family's reputation into account, instead of my own. People were constantly trying to paint me in a bad light, but I have a few questions for those people.

1.If he is not the culprit, why isn't he coming clean since he knows I won't rest until I get to the bottom of this?

2.I reached out to his family and asked them if they would like to file a case with FIA. They did not respond. Why not?

3.I even told them I would get the bloggers to take down the post if he apologised, owned up to his mistake and promised not to repeat it again. But the perpetrator said,

"I'm really sorry over something I haven't even done, but I'm sorry."

Can someone please explain what kind of an apology this is?

4.If his Facebook was hacked, why did the hacker block me after abusing me? Usually when Facebook accounts are hacked, the hacker sends inappropriate messages to someone close to the person, or in the very least, people on their lists. I was a complete stranger.

5.Can he prove his Facebook was hacked? People usually send out messages to their friends and family when their account is hacked. Can he prove that? According to one of his friends, his Facebook was hacked over 20 days ago.

6.I am very certain his Facebook wasn't hacked because the last post on his wall was very recent. The person tagged in it had responded to him and there was a proper conversation going on in the comments section.

7.How did the hacker come to know about the post I shared on a closed group?

People have been saying that I did this to seek attention. Honestly, it's not about seeking attention; it's about raising your voice and standing up for what's right. It's about setting an example by bringing such matters to the forefront. My post has lent a voice to countless young people who have faced the same abuse and bullying, but couldn't do anything about it.

People say I shouldn't have read the messages. Well, would you stay silent when someone abuses you and your parents? I'm sorry, but I won't. I'm not the kind of person that lets someone mess with them and get away with it.

People have manipulated my words into something they weren't and have tried their level best to portray me as the villain.

The point of my speaking out was not to cause the harasser any harm, but to teach him a lesson, so that he will not repeat this. This type of abusive behaviour should not be tolerated anymore. I don't understand why people take harassment so lightly. It scars your mind and soul for eternity. Why do we choose to remain complacent in the face of such events? Why do people think staying quiet will make the issue go away?

Somebody has to take a stand and I don't mind being that person. I know there are going to be countless internet trolls who are going to make me regret my every move, but I won't stay silent.

"Come on and raise it

Come on raise this noise

For the million people

Who got not one voice."
All photos: Screenshots
Facebook Conversations
COMMENTS (9)
Comments are moderated and generally will be posted if they are on-topic and not abusive.
For more information, please see our Comments FAQ